Cladosporium is one of the most widespread molds because it can be found in nature as well as indoors.
Mr. Common Combative is one popular bad guy who loves to pick on humans who have allergies and asthma. He attends parties where the Respiratory Rival (Aspergillus) and his friends (Penicillium and Wallemia Sebi) will be since he is a secondary wall colonizer- aka a follower! Never underestimate Mr. Common Combative for he can be found in almost every nook and cranny of your property (bathroom, carpets, air ducts, attics, furniture and more).
The disguises of mr. common combative
Mr. Common Combat has around 40 different disguises (species) and each disguise has its own act (place to be found)! Listed below are his 4 most favorite disguises.
Cladiosporium herbarum – The most prominent mold is air-spora. It grows over a wide range of temperatures, and has been reported to cause spoilage of meat in cold storage.
Cladiosporium sphaerospermum – This frequently encountered species has been isolated from air, soil, gypsum board, acrylic painted walls, painted wood, wallpaper, carpet and mattress dust, HVAC fans, wet insulations in mechanical cooling units, foodstuffs, paint and textiles.
Cladiosporium Cladosporioides – A cosmopolitan species which has been isolated from meat, soil, air, textiles and paint.
Cladiosporium Macrocarpum – A cosmopolitan species which has been isolated from dead plants, soil, indoor air, apple juice concentrates and seeds.
What is most dangerous about Mr. Common Combative? As mentioned earlier, he loves to pick on humans that suffer from allergies and asthma. He has the ability to trigger allergic reactions in humans with compromised immune systems which can cause rashes, itchy eyes, sudden muscle spasms, breathing difficulty, congestion and more! Some humans can be immune to him if they do not have the certain sensitivities that other humans possess (Cladiosporium emits no toxins).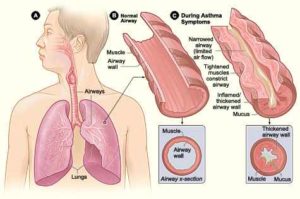 How to fight against mr. common combative
Having homes/properties assessed by a licensed Air Quality Assessor is always a great weapon to use, because they can tell how much of Mr. Common Combative is around or in the air. For humans suffering from asthma or allergies, it is very important to keep the home/property at a safe level to lower the chances of an allergic reaction or respiratory problems from occurring. Mr. Common Combative produces more than 10 types of antigens (any substance that causes your immune system to produce antibodies against it) which increases the risk of an asthma attack. If a human notices an increase in his or her asthma symptoms and believes the reason to be Mr. Common Combative or his friends, contact an Air Quality Assessor to come in immediately!